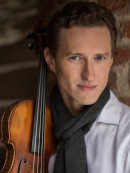 He comes from a musical family, his father Josef Špaček is a cellist with the Czech Philharmonic, his younger brother Petr Špaček is also a cellist.
He has been playing the violin since he was six years old. His first cantors were Hana Metelková, Pavel Prantl, then Jaroslav Foltýn at the Prague Conservatory. Already after his first year at the conservatory, he was accepted to the prestigious Curtis Institute of Music in Philadelphia, where he studied in the years 2004-2009 with prof. Idy Kavafiana, in 2004-2006 in the class of Jaime Laredo, in 2007-2008 with prof. She frowned at Askhenasi. From the age of 13, he also took part in many musical violin courses under the guidance of Stephen Shipps, R. Ricci, Milan Vítek, Václav Hudeček and Bohuslav Matoušek.
From September 2009, he continued his studies at the Juilliard School in New York in the class of Itzhak Perlman, which he completed in May 2011. In June 2011, when he was twenty-three years old, he became the youngest concertmaster in the history of the Czech Philharmonic. ended in the 2019/2020 season and subsequently remained guest concert master of the Czech ensemble.
He has been performing at concerts and festivals since childhood. He collaborated with conductors Christoph Eschenbach, Manfred Honeck, Jiří Bělohlávek, Ondrej Lenárd, Ondřej Kukal, Juri Gilb, František Preissler, Jakub Hrůša, Andreas Weiser, Aleksandar Marković, Jaroslav Krček and others. As a soloist, he performed with the Philadelphia Orchestra, Czech Philharmonic, Prague Chamber Philharmonic, Bohuslav Martinů Zlín Philharmonic, Hradec Králové Philharmonic, Czech Chamber Orchestra, Pardubice Chamber Philharmonic, Philharmonic Chamber Orchestra, Russian Chamber Orchestra St. Petersburg, the Berg Chamber Orchestra, the Brno Philharmonic and the Barocco semper giovane ensemble.
He performed on stages in Denmark, Finland, Germany, England, France, USA, Switzerland, Japan, Poland and New Zealand. In 2007, Josef participated as concertmaster of the New York String Orchestra Seminar, where he performed at two concerts in Carnegie Hall, in 2009 he performed there as concertmaster of the Curtis Orchestra.
In 2006, he released his debut CD with a complete set of six Ysay sonatas for solo violin, Op. 27. In 2010, together with the pianist Gordon Back, he recorded a complete CD with the works of Heinrich Wilhelm Ernst, which was released by the Naxos record company in 2013. In April 2013, Supraphon released Josef Špaček's new CD with Slavic music. The CD includes a sonata by Leoš Janáček, Duo Z domoviny by Bedřich Smetana and two sonatas by Sergei Prokofiev: one for solo violin and the other for violin and piano.